miRNomics atlas is a publicly available web-based tool developed by Dr. Ghanbari's lab to disseminate the results of their cutting-edge research on miRNAs ranging from genetic regulation of miRNAs, the association of miRNAs with various clinical traits and diseases, and integration of miRNAs with other omics data in order to identify the role of miRNAs in the pathogenesis of complex diseases and their potential as biomarkers by using large-scale population-based omics data followed by experimental validation studies. The results of projects conducted by our team in the emerging field of miRNA-gene regulation are categorized into three parts: A. Genetic regulation, B. Disease association, and C. Omics integration of miRNAs. You can find our projects and publicly available data by clicking on the links below.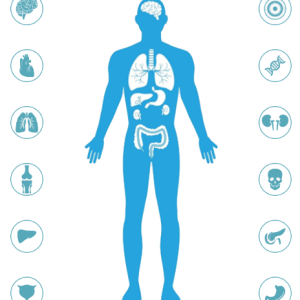 Disease association of miRNAs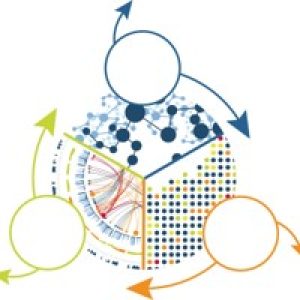 Omics integration of miRNAs
microRNAs
Biogenesis and Function
microRNAs (miRNAs) are small, evolutionary conserved, single-stranded, non-coding RNA molecules that span between 18-24 nucleotides and regulate gene expression on a post-transcriptional level. miRNAs were first identified in the organism C. elegans in the early 1990s. Currently, more than 2500 mature miRNAs have been identified in the human genome, the majority of them seem to be highly conserved in other animals. miRNAs together could regulate expression of more than half of all coding genes in humans.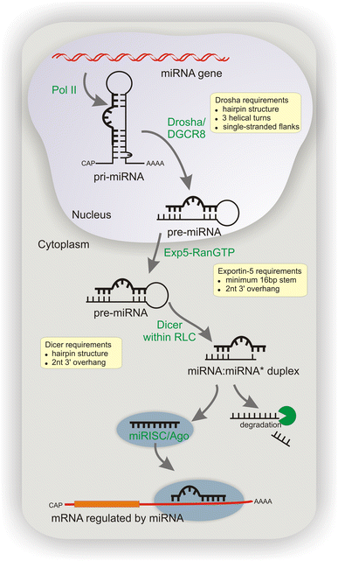 Canonical miRNA biogenesis begins with the transcription of DNA sequences into primary miRNAs (pri-miRNA). The microprocessor complex, comprised of Drosha and DiGeorge Syndrome Critical Region 8 (DGCR8), cleaves the pri-miRNA to produce the precursor-miRNA (pre-miRNA) in the nucleus. The pre-miRNA is exported to the cytoplasm in an Exportin5/RanGTP-dependent manner and processed by DICER to produce the mature miRNA duplex. Finally, either the 5p or 3p strands of the mature miRNA duplex is loaded into the Argonaute (AGO) family of proteins to form a miRNA-induced silencing complex (miRISC). In most cases, the miRISC binds to target messenger RNAs (mRNAs) through base-pairing of miRNA with its complementary sequences in the 3´untranslated region (UTR) of mRNAs. This interaction results in gene silencing by cleavage of the mRNA strand or its destabilization through shortening of the polyA tail or inhibiting the translation of the mRNA into proteins. However, interaction of miRNAs with other regions, including the 5′ UTR, coding sequence, and gene promoters, have also been reported. The interaction of miRNAs with their target genes is dynamic and dependent on many factors, such as subcellular location of miRNAs, the abundancy of miRNAs and target mRNAs, and the affinity of miRNA-mRNA interactions.
miRNAs can be released into extracellular fluids (e.g., plasma, cerebrospinal fluid, saliva, breast milk, urine) and transported to target cells via vesicles, such as exosomes, or by binding to proteins, including Argonautes. Extracellular miRNAs function as chemical messengers to mediate cell-to-cell communication. The extracellular miRNAs, especially those circulating in serum or plasma, are highly stable and have the potential to be used as biomarkers for a variety of diseases.
Association of miRNAs with
Clinical traits and Diseases
HOW IT WORKS
Join us with three
easy steps
Our Customers
Testimonials

Postdoctoral researcher, Department of Epidemiology, Erasmus MC University Medical Center, Rotterdam, the Netherlands

Assistant Professor and PI of Molecular and Systems Epidemiology, Department of Epidemiology, Erasmus MC, Rotterdam, the Netherlands

Associate Professor and PI of Molecular and Systems Epidemiology, Department of Epidemiology, Erasmus MC, Rotterdam, the Netherlands
WRITE US
Feel free to contact us
for more details
CALL US TODAY
+3 (0) 10 70 44 228
E-MAIL US
m.ghanbari@erasmusmc.nl
on These Social Media or Websites